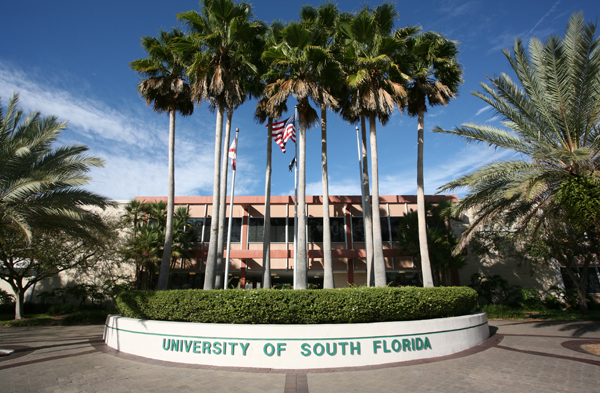 Announcing ESTC America!
As the importance of ecotourism and sustainable tourism increases, so does the popularity of our Ecotourism and Sustainable Conference (ESTC). As a result of this popular demand, TIES will be launching our first annual ESTC America from January 25-27th, 2016 at the University of South Florida in Tampa, Florida. The event is a unique annual conference focused on the advancement of sustainability goals for the tourism industry. Offering invaluable learning and networking opportunities, ESTC America will be a leading international meeting place where innovative minds gather to discuss ideas and solutions that inspire change. Early bird tickets are priced at $495 and $395 for TIES Members. This includes three days of networking opportunities, field sessions, receptions, lunches, speeches and presentations. Only 180 seats left, this event will sell out. Register now!




The Patel Center, a Perfect Setting for our Sustainable Tourism
Conference
ESTC America is ideally located at the Patel Center for Global Solutions, where students gather together to collaborate on the world's most difficult challenges. The theme of sustainability resonates throughout the building in both design and architecture. The building is LEED gold certified with recycled carpets, low-flow waste management systems, energy-efficient lighting, and energy-efficient heating and air conditioning systems.
| | | | |
| --- | --- | --- | --- |
| Share: | | | |
Some ESTC America Presenter Profiles
Dr. Kelly Bricker is the Department Chair at the University of Utah in Parks, Recreation, and Tourism. She also works as a Senior Research Scientist – Recreation with HDR|DTA part-time. She completed her Ph.D. research with the Pennsylvania State University, where she specialized in sustainable tourism and natural resource management. She has special research and teaching interest in ecotourism, sense of place, natural resource management, and the environmental and social impacts of tourism. Kelly has conducted research on heritage tourism, social impacts of tourism, and natural resource-related tourism. With her husband Nathan, she developed an ecotourism operation called Rivers Fiji. She serves as the Chair of The International Ecotourism Society and the Global Sustainable Tourism Council.
Dr. Bricker is enthusiastic about ESTC America, "Experts from around the world will gather to discuss ecotourism trends and strategies in North America, hosted by the Patel College of Global Sustainability in Tampa, Florida this January. This region of the USA is an excellent living laboratory of ecotourism and sustainable tourism examples—from wetland restoration to sustainable communities, to management of mass tourism experiences, this conference will showcase strategies and creative multi-stakeholder initiatives, in hopes of inspiring sustainable conservation strategies for long term success."
Randall Pape manages the academic program, develops new curriculum, provides student advising and assists with implementing the academic initiatives of the Patel College of Global Sustainability. His passion and involvement for sustainability at USF first began in 2005 when he served as the President of the Graduate and Professional Student Council, representing over 8,000 students. He has taken his experience as a sustainability consultant, marketing and operations executive, and most recently as an environmental entrepreneur (ecopreneur) to manage and grow the Global Sustainability program to one of the most respected programs in the nation. Randall earned an M.B.A from the University of South Florida and received his B.S. in Information Studies from Florida State University.
Dr. David W. Randle is Managing Director of the International Ocean Institute Waves of Change campaign, co-facilitator of the Global Healing Initiative and president and executive director of the WHALE Center. As the first ordained environmental minister in the world, Dave has successfully coordinated a national campaign to preserve water, wildlife, and wilderness areas on behalf of the Pitkin County Commissioners, served as political and environmental adviser to John Denver and initial program development coordinator for John Denver's Windstar Foundation.
"The Patel College of Global Sustainability is very excited about hosting the first ESTC America conference this January. We look forward to sharing with people from across North America some of the exciting work we have been doing with tourism and planetary boundaries as well as some of the global best practices in tourism that are being demonstrated in Florida. We also look forward to sharing fun and educational excursions. Whether it is visiting the greenest little town in America on Anna Maria Island, Wetland Restoration and models for sustainability at the Disney Wilderness Preserve, a trip down the river with Manatees, or learning about coastal habitat and marine environment protection at Tampa Bay Watch and getting some beach time at the model beach / open space Fort Desoto Park, we're excited to share a little bit of Florida with everyone at the conference. Come a few days early or stay a few days later and enjoy our beaches, theme parks, or just taking a break from the winter cold that will likely be going on in January across much of North America. I look forward to seeing my TIES friends again and meeting new friends at this event."
Interested in Speaking or Presenting at ESTCAm?
For the ESTC America we will accept presentations/papers focused on case studies, best practices (including implementation strategies), and initiatives/practices that have positively contributed to sustainability in tourism. Research that demonstrates the ability to effect positive change is especially welcome! Contact us at events@ecotourism.org
| | | | |
| --- | --- | --- | --- |
| Share: | | | |
City of Tampa Excited to Partner with TIES on ESTC America
Visit Tampa Bay (formerly known as Tampa Bay & Company) leads the effort of economic development through tourism. The mission of Visit Tampa Bay is to create vibrant growth for the Tampa Bay area by promoting developing and expanding a united visitor industry. The independent not-for-profit organization represents more than 700 businesses throughout Tampa Bay and promotes the area as a choice destination for conventions and visitors.
| | | | |
| --- | --- | --- | --- |
| Share: | | | |

©2015 The International Ecotourism Society (TIES), All Rights Reserved.
TIES is concerned about your privacy. We do not rent, sell or exchange email addresses.
Write us at: PO Box 96503 #34145 Washington, DC 20090

Change email preferences(sample@tailoredmail.com) Stop getting these updates