Finally: Video That Plays Directly Within Email
Putting it all together: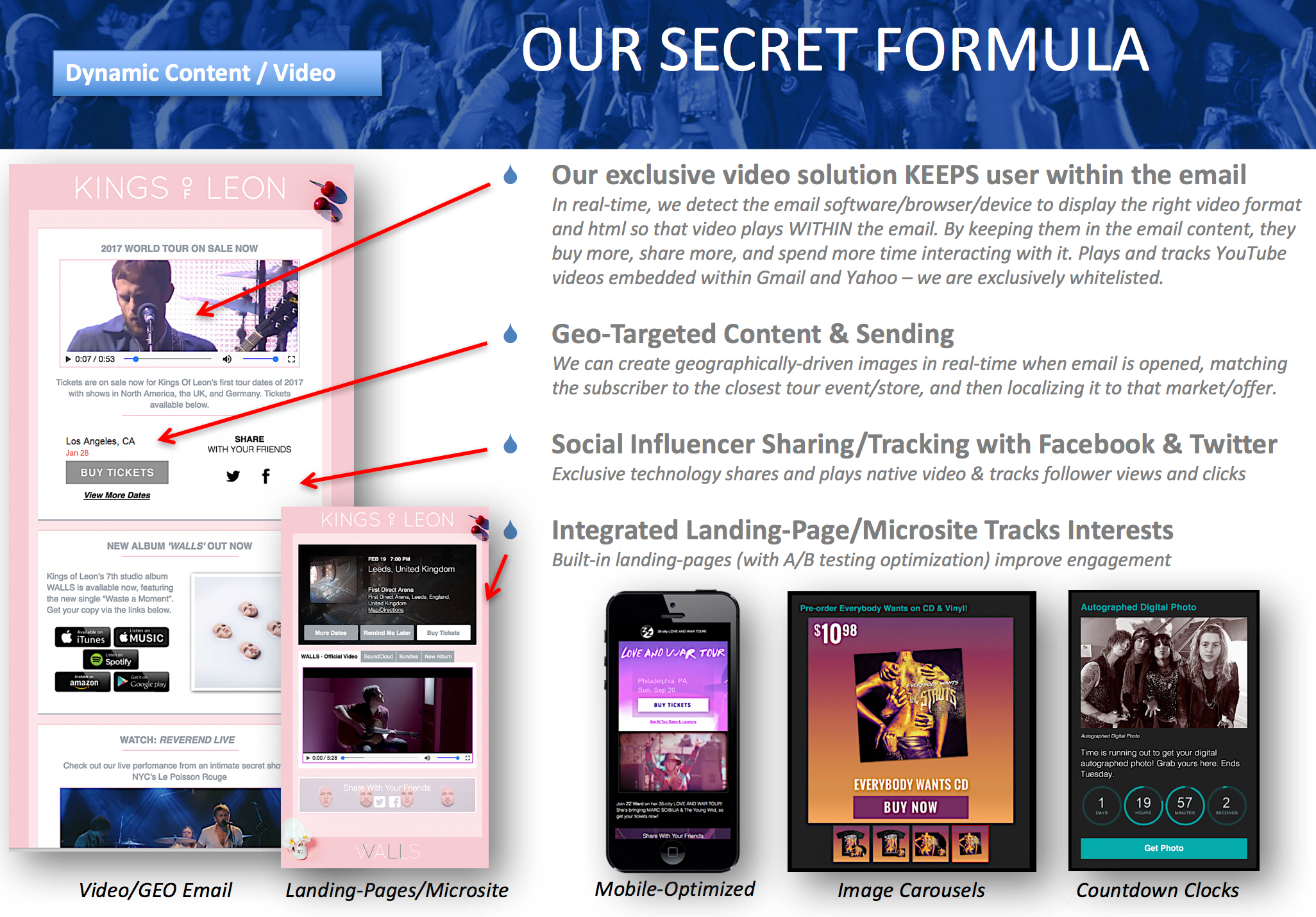 TailoredMail not only provides video-in-email, but also:
Audio-in-Email: Embed presentations, podcasts, or create animated image-slideshows with music or voiceover.
Image-Carousels: Create an interactive, thumb-tappable slideshow of product images or fan-pictures.
Countdown-Clocks: Create a sense of urgency with real-time dynamic count-clocks.
Real-time Geo-dynamic Images: Dynamically match users to a specific location - and create a localized image on the fly.
Mobile vs. Desktop images: Show different images based on the device being used.
A/B Optimized Images: Not sure which image will generate the most clicks? We have you covered.
Get ready to TRIPLE email click-throughs.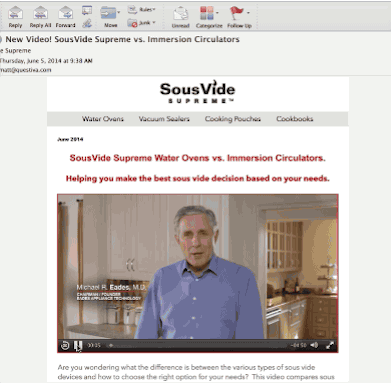 We are the only email-marketing-provider in the world to offer true embedded-video that can play directly inside all of your email. Strategically, videos are automatically whitelisted with Twitter and Facebook, and can be fully shared by your subscribers (and fully tracked) in your campaigns. This dramatically extends the viral-reach of your videos, and gives you unprecedented tracking of who your most influential subscribers/fans are.

"OUR MINDS ARE BLOWN. TailoredMail is enabling email to do things we never thought were possible."
- ROC NATION
In less than 5 minutes, you can embed videos into your campaigns for immediate sending. We track each individual subscriber's viewing behavior, such as how many times they viewed, how much of the video was viewed, social-sharing behavior, and what device/platform they were using.
TailoredMail's Unique Approach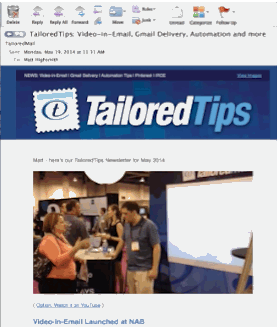 Video plays INSIDE the email content you send. Gmail, Yahoo, iPhones - you name it.
Our secret sauce: we auto-detect more than 100 unique devices, email clients and operating-system environments - in real-time - and serve up different formats to offer everyone a one-click-to-play experience.
In addition to being able to 'play' video, we are the only provider who tracks how long, how often, and with what device/client each subscriber achieves
The solution is hosted and streamed from TailoredMail's Amazon cloud (using edge-servers for instant worldwide playing).
You can optionally set it to auto-play, be muted, show/don't-show video player controls, and much more.
Your subscribers don't have to download any 'players' or have Flash — it just
works (using standard HTML5, plus our breakthrough techniques)
.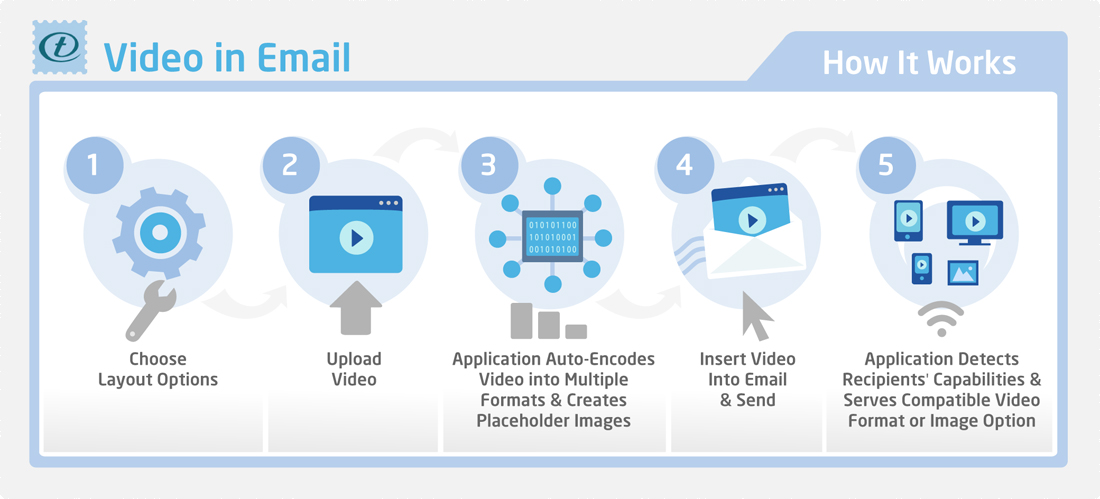 Our auto-detection 'secret sauce'
HTML5 is everywhere, but it's not technically possible for email marketers to create a working (let alone elegant) video-in-email experience on their own. If you did try to do it on your own, you might make it work in a few environments, but then it will break in most others. This sophisticated detection system is what makes video-in-email possible.
Here's what we do:
If recipient's view your email on a video-in-email supported platform, we display the video-and-player embedded in the email - ready for instant viewing. For most B2C companies, this will represent over 75% of their subscriber base.

If the subscriber's email client does not support video-in-email yet, our system will automatically display a short animated image (GIF) that mimics the video (note: our system auto-creates it for you) and overlays a "PLAY" icon to encourage the recipient to click it. Once clicked, it opens a web page version of your original email - and plays the video instantly. This is a key point; we keep the subscriber within the original email, where we've proven they click twice as much (or more).
This "Decision-Tree" approach ensures that none of your recipients have a broken experience—no matter what their mail client may be. It also reduces the number of clicks, wait times and distractions that occur using traditional methods (e.g. using a clickable image that sends people to YouTube).
Here's the "Decision-Tree":
A.) First: Detect device/platform, and play the embedded-video inside the email content (watch the video below for an example):
Gmail Desktop
Yahoo Desktop
Apple iOS (iPhone, iPad, iPod)
Android (various devices)
Outlook for Mac
Apple Mail
Thunderbird
The above averages about 75% of emails opened in the B2C world, and about 65% in the B2B world. More importantly, over 50% of emails are opened on smartphone devices, and virtually all smartphone devices support embedded-video directly.
B.) Detect platforms that do not yet support embedded-playing, and show a clickable animated-GIF instead. IMPORTANT: We automatically link this image to a complete replica of the email in a browser, and instantly play the video. This offers the same one-click-to-play experience, and most-importantly, KEEPS the subscriber within the email content: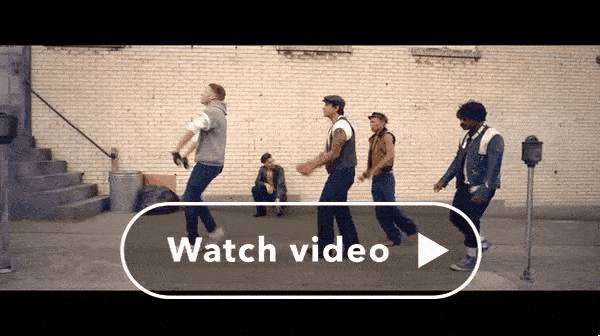 AOL
Mobile Gmail/ Yahoo
Outlook.com/ Hotmail/ MSN
Android (various devices)
TailoredMail's unique approach here dramatically improves viewings of the video. First, the animated GIF increases clicks by more than three times. Second, a browser window opens and the video starts playing instantly - and the subscribers stays within the email content you sent. Our A/B testing shows that when this is done, it can more than double click-throughs of other content in your email. The truth is this; if you send the recipient to YouTube or Vimeo to watch the video, they never return to the email - and your sales or communication goals are not achieved.

C.) If Outlook for Windows is detected, show a static image and one-click opens a complete replica of the email in a browser, and instantly plays the video:
Outlook for Windows uses Microsoft Word as its 'display engine', and as such does not support video, and will only show the first frame of an animated-GIF.

But - importantly - it is still a one-click-to-play experience, and it's fully tracked!

Outlook for Windows now represents less than 10% in email views - and for some B2C audiences, it can be as low as 3%. And, with so many corporate audiences reading their email on iPhones (our stats/research show more than 50%), TailoredMail's approach dramatically increases the engagement across your entire subscriber-base.
System Features:
Takes 5-minutes to set-up and send your first video
Fully customize the size, layout and styling of your videos
Automatically creates elegant animated GIFs of your video - fully customizable (or upload your own).
Analytics for:

Who sees your video
Viewing time / length / location / frequency
Viewing device / operating system
Sharing over social and to colleagues/friends

Based on HTML5, not proprietary software
Unique integration with YouTube
Hosted in the cloud & scalable to any need