Deny and Perish
By James Richardson, Senior Vice President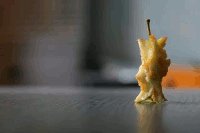 Last week, Food Business News released a troubling statistic for food industry executives: unit sales in 14 of the top 20 packaged food categories (bread, soup, baby formula, canned/bottled fruit, shortening, etc.) declined 3% or more in the past 52 weeks at mid-market FDM (Food, Drug, Mass) retailers, according to SymphonyIRI data. 1 This comes on the heels of a surprising number of major food companies reporting at CAGNY 2012 that they had experienced sustained volume declines in their core businesses in the past year.

Literally days after Food Business News published their announcement, Nielsen announced a webinar on the rise of the perishables sector. Apparently, they have discovered what we also have discovered: that perishables and fresh food in general are gaining share of grocery dollars—and have been for years.

Most surprising of all is that even experienced food industry analysts seem to think there is something new going on here and struggle to understand 'why' this is happening. Really?

These are the same analysts who continue to track (and cite) only FDM sales trends. By staring at the middle of the market, they are unable to see the entire forest. The packaged foods universe is actually growing very well downmarket, in dollar stores, convenience stores and in Aldi. And it is growing well upmarket, where fresh, high-quality packaged brands are the dominant driver of sales.




But, there is a more important trend driving the long-term volumetric decline in mid-market packaged foods sales. Consumers are increasingly shifting dollars away from packaged food as a whole.

Our tracking of the fresh foods trend began 25 years ago, when our company was founded. About 10 years ago, we started sounding the alarm about a trend away from processed packaged food among mainstream consumers, not just the natural foods crowd. Few listened.

Long before the recession, savvy consumers were already figuring out that the best prepared foods departments in their local area offered a better value than take-out restaurant food. Upscale grocers like Whole Foods and Trader Joe's were especially good at developing loyalty around this one department. Whole Foods Market did it by selling fresh, unpackaged take-out. Trader Joe's did it by packaging and branding restaurant-quality refrigerated meals. And the latter is perhaps most evolved in their commissary-packed, refrigerated meals business.

While hardly a major profit pool for grocers yet, deli/prepared foods is exhibiting strong demand suggestive of an unconscious demand for fresher-tasting convenient meal options in the traditional grocery trade.

Along with the tipping point in frozen entrée flavor preferences and clear signs of long-term decline in frozen ready meals, the steady revenue growth in deli/prepared foods provides cultural enablers for the rise of what we call: the Third Grocery Sector.

While the frozen food industry has been busy launching products focused on getting frozen foods onto stove top cooking dinner occasions (e.g., skillet meals) and onto snacking occasions (e.g., Tyson Anytizer), there are clear signs of another cultural, and resulting business, surge in the making.

Contrary to the implication of the recent article in Food Business News, an aggregate shift away from packaged food began long before now and even long before the recession began. If we look at the volumetric trends from 2003 until 2009 (something almost no one ever does), we see that fresh food (i.e., raw fruits, raw vegetables, grains) have been steadily growing while packaged food (everything in a package) has been steadily, inexorably declining.



2003-2009 Growth Trends in Fresh vs. Packaged Food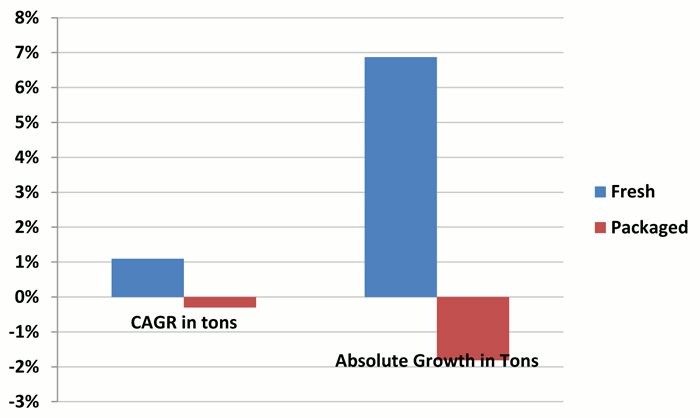 Source: Euromonitor, Who Eats What, 2011, and Hartman Analysis

While most companies would look for category-level causes for volumetric decline in big packaged food categories, the problem is really cultural: food culture is changing in a long-term manner that packaged food companies have yet to truly accept.

The shift towards fresh food is one that we know from field research is going on at all ends of the socioeconomic spectrum because cooking with fresh foods offers struggling consumers a stronger value proposition than spending extra money on convenient packaged food solutions and the growing desire for healthier meal experiences composed of fresh fruits, vegetables and grains casts most packaged foods in a poor light for more educated consumers.

The days of consumers happily buying overpriced convenience meals from their local chain supermarket are a thing of the past, regardless of their lifestyle or background. While most food companies want to reverse the problem through trade promotions, desperately creative ad campaigns or riding the dollar store wave, the reality is that volume declines are too large in FDM to be offset by 'growth channels' and short-term ad-generated lift. And most executives know better than to believe otherwise.

Packaged food companies need to find ways to use their existing cash to broaden their portfolios to include more fresh food experiences and new trademarks that can credibly promote them.

The real opportunity is in fresh, packaged foods. What we call the Third Grocery Sector. This is the sector driving phenomenal growth in yogurt, hummus, refrigerated meal components, etc. And we find it to be largely a world of small independent producers who have a better alignment with long-term food culture trends, unfortunately, than many of the largest packaged food companies in the world.


Share:
Comment:

(110)
1
http://www.foodbusinessnews.net/News/News%20Home/Features/2012/3/Declining%20unit%20volumes%20a%20mystery.aspx
(Return to Newsletter)
Custom Research



Our human-centric approach that dissects consumer and shopper culture to reveal breakthrough insights:
Hartman Research

Worldview Capabilities



Your Passport to Global Insights, Strategic Planning and Innovation:
Hartman Worldview

Growth Strategies



Helping food and beverage clients align their food portfolios to real consumer demand, existing and emerging:
Hartman Consulting
UNSUBSCRIBE | FORWARD EMAIL | ARCHIVES | FEEDBACK | CONNECT WITH US
THG respects your right to privacy. We do not rent, sell or exchange email addresses. You are subscribed using the following email address: lisa@outpost.coop. If you wish to change your selections or unsubscribe, click above.

WRITE US: Hartman Group, Inc, 3150 Richards Road, Ste 200, Bellevue, WA 98005