Consumer Confidential: A Food Journal on Shopping Fresh & Easy
A view from behind the cart reveals why Fresh & Easy has not been able to build momentum in the U.S. market

There are around 180 Fresh & Easy Neighborhood Markets located in three states: California, Arizona and Nevada. So, unless you live in or have traveled to one of these areas, chances are good that what you know about Fresh & Easy, you've learned through reading articles -- like this one.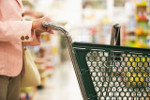 Most articles are the trade variety, citing industry and market analysis, pundit opinion and armchair-quarterback-type critique. Tomes abound on the imminent demise of Fresh & Easy, loaded with rearview-mirror scrutiny of Tesco's entry into the U.S. marketplace. Rare is the glimpse from behind the trolley—the consumer's vantage point.

Shortly after Fresh & Easy opened their first stores in Southern California, our ethnographic analysts were on the scene alongside consumers, gathering their initial perceptions of the retail experience.

In 2008, consumers told us they weren't quite sure what to make of Fresh & Easy and we remarked in our white paper at the time that this striking ambivalence "did not bode well for the kind of aggressive growth trajectories trumpeted by Fresh & Easy's executive team."

These words still ring true today in light of headlines trumpeting Fresh & Easy's struggles in the U.S. market. Have consumers warmed at all to Fresh & Easy? Can it survive and thrive in the American marketplace?

For answers, we turned to consumers for an updated, behind-the-shopping-cart outlook on the Fresh & Easy retail experience. While the following is a glimpse into one consumer's shopping journal, it is representative of the large swath of our consumer work inside Fresh & Easy. It reveals insights into why Fresh & Easy has not been able to capture and retain share of mind as well as share of wallet.
Fresh & Easy: One Shopper's Food Journal
First Impressions: Never Shopped Before

"I've yet to shop a Fresh & Easy but I can tell it's going to be a good experience. That is, as good as a grocery shopping experience can be. I just perused the online flyer and saw some good deals, which is very important in a grocery store. I also saw that they advertised premade meals and the combinations looked appetizing and healthy, like something I would eat. I am not planning on buying premade meals but for some reason the fact that they place an importance on "high fiber," "high protein" and "whole grains" makes me feel better about their store already and what they might have that I want to buy."

Shopping Occasion

"We are having some friends over for dinner Saturday, so I'm preparing now, looking through my fridge and pantry to determine what we have and what my best bet is for an economical yet company-worthy dinner. I have some good cheese that I bought the other day so I will get some crackers from Trader Joe's to go with it for an appetizer. I love Trader Joe's crackers. I also have staples like quinoa, dried beans, couscous and pasta but will need some fresh produce."

Shopping Experience: The Store

"Within a few minutes of walking into Fresh & Easy I knew I was not going to be able to get everything on my list there, which makes for more stops and adds to the hassle. The produce department was small and looked to only have the basics.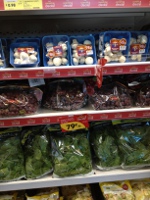 It was clean and simple. My eye went to flowers when I came through the door, so that's positive. Walking through the produce department I noticed everything seemed to have excessive packaging. Actually, the only things not in plastic were the bananas!

"I'm put off by this not just for the environmental factor but because you can't feel the tomatoes and smell the citrus. The prices were all around low but because it was hard to determine the quality it may not be worth it. There was a large section of prepared foods and prepackaged snack foods. I glanced at them and kept walking. The store was small in comparison to a Safeway, probably about the same size as Trader Joe's but not as attractive. There was no décor to speak of. In some of the freezer aisles they hung utensils and plastic food containers—overall making for quite a tacky look. I only saw three employees in the whole store, although they were nice and helpful."

Purchases

"In total, I bought half of the things on my list, which was about 5. They had pasta but only the "Eating Well" brand and I'd rather hold out for a brand I know and like. I did buy a box of their "Eating Well" cereal that looks to be very similar to Kashi (a favorite!) and cheaper. They had Kashi but it was a dollar more so I thought I'd give this one a try."

Checkout and Exit Experience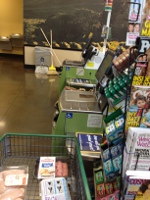 "When I was ready to check out I noticed there were no employees at registers. Only the self-serve style checkouts, which I thought was odd but I went with it. The whole experience reminded me of being in a cafeteria. Lots of prepared foods to grab and go: the "help yourself" attitude. I did appreciate not needing to have a preferred shopper card to get the best deal. Some stores offer different prices for goods, then when you get to the register, or worse yet, you get home and realize you did not pay that great low price you intended to pay because you don't belong to the right club or didn't buy enough of the product. Nobody likes surprises in this regard."

Last(ing) Impressions

"Like many shoppers, I'm familiar with certain stores and know what is available and its approximate value. If I go to Trader Joe's, I'll buy cheese, chips, crackers and wine because I know we'll like them and the prices are relatively low. If I go to an Aldi, I will stock up on canned black beans and browse the produce because the prices are very low. Whenever I am at Costco or Sam's Club I pick up a large bag of coffee (because we go through A LOT of coffee) and I usually fill up on gas for the car.

"I don't think a grocery store has to be huge to fulfill your needs but it does need to have the variety and brands you recognize. There is a rhyme and reason behind choosing a certain store: you wouldn't go to PetSmart to get your oil changed. I frequently end up shopping at more than one store per shopping trip to get everything I need but it becomes really tedious when you need to go to three—unless I'm looking for something special.

"When I finished at Fresh & Easy I headed to Safeway and then proceeded to Trader Joe's when the fresh tuna was a funny color at Safeway (I ended up with frozen from Trader Joe's). So with all things considered I don't think I will make it back to Fresh & Easy any time soon. The selection, prices and overall experience were not a great enough draw. As I mentioned before, I have some favorite stores I regularly shop and while I'm always willing to try some place new…"
Our Takeaway
Shoppers ultimately decide a retailer's fate. This consumer's shopping journal is indicative of what our ongoing shopper research has revealed about the Fresh & Easy shopping experience.
Initial enthusiasm for an exciting, new shopping venture is dashed by the reality of the actual shopping experience. Consumer leaves underwhelmed and uninspired with no emotional attachment or reason to ever return.
When shoppers compare Fresh & Easy to other retailers, particularly Trader Joe's, Tesco's failing at disruptive innovation in the small format grocery whitespace is quite clear: Fresh & Easy is out of touch with changes occurring in food culture and is unable to translate this knowledge into compelling products and services or a seductive shopping experience that elicits return trips.
What's in a name? While the value proposition is articulated in its name—Fresh & Easy—we find consumers asking "Just how fresh?" and "Does easy matter?" To most consumers, plastic-wrapped produce is not all that fresh. And it is certainly not a testament to food celebration or an invitation to a culinary discovery.
We are on record saying that a retail offering like Fresh & Easy Neighborhood Market can succeed. But we believe success will come as a result of a company's ability to react nimbly to the various and sundry niches that comprise a constantly changing and evolving food culture and the actors within that culture—consumers.

Read our previous Hartbeat newsletter articles on Fresh & Easy:

Missives and Musings on Fresh & Easy in America

Tesco's Fresh & Easy Finally Comes Clean

Fresh & Easy 3: The Final Chapter

Food Retailing's New Battleground: Small Format Stores

Download the white paper Tesco's Fresh & Easy Neighborhood Market: How Fresh? Does Easy Matter?

Return to newsletter »
Share:
Comment:

(2)
Custom Research



Our human-centric approach that dissects consumer and shopper culture to reveal breakthrough insights:
Hartman Research

Worldview Capabilities



Your Passport to Global Insights, Strategic Planning and Innovation:
Hartman Worldview

Growth Strategies



Helping food and beverage clients align their food portfolios to real consumer demand, existing and emerging:
Hartman Strategy
UNSUBSCRIBE | FORWARD EMAIL | ARCHIVES | FEEDBACK | CONNECT WITH US
The Hartman Group respects your right to privacy. We do not rent, sell or exchange email addresses. You are subscribed using the following email address: sample@tailoredmail.com. If you wish to change your selections or unsubscribe, click above.

WRITE US: The Hartman Group, Inc, 3150 Richards Road, Ste 200, Bellevue, WA 98005