Consumers Are Clear Why They Buy Organics, Says The Hartman Group -- Reasons That Extend Beyond Nutrition

For Immediate Release
Blaine Becker
The Hartman Group
(425) 452-0818, ext. 124




Over One-Third of All U.S. Consumers Buy Organics at Least Monthly,
an Increase of Three Percent Since 2010


Bellevue, Washington, September 13, 2012 -- The recent Stanford University study that concluded organic foods were no more nutritious than their conventionally-produced equivalents is unlikely to deter consumers from purchasing organics, according to findings from a soon-to-be-released new report by The Hartman Group.

"Shoppers, historically, adopt and continue their purchase and consumption of organic foods and beverages for reasons that extend beyond nutritional values," says Laurie Demeritt, The Hartman Group's president and COO. "Organic gained prominence for the many other quality and health notions it represents, like authentic, pure and, most importantly, the halo of being free from negative ingredients."

Beneath this halo of healthfulness, the absence of negatives outshines many other factors associated with the purchase of organics. As the following chart illustrates, the absence of genetically-modified foods and growth hormones is also motivation for the continued purchase of organics.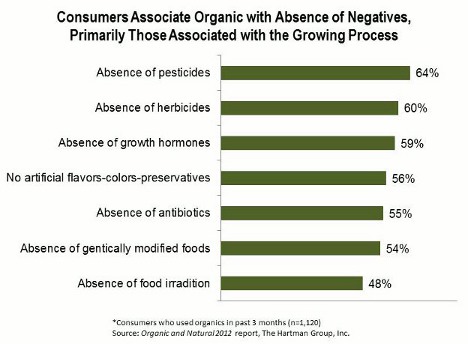 "Consumers are much more knowledgeable about organics today than they were 10 years ago," asserts Demeritt. "In addition, as the organic marketplace has evolved, consumers are demanding even more from organic manufacturers in terms of transparency and narratives regarding product origin. They are also now looking to retailers as docents in the product selection process."

The Hartman Group's Organic and Natural 2012 report is the latest in the longest-running series of consumer-centric syndicated research exploring the organic and natural trend in America. The report will be available October 1, 2012.

To learn more, please contact:

Blaine Becker
Sr. Director, Marketing & Business Relations
425.452.0818, ext. 124
blaine@hartman-group.com

Share:
Comment:

(2)
Custom Research



Our human-centric approach that dissects consumer and shopper culture to reveal breakthrough insights:
Hartman Research

Worldview Capabilities



Your Passport to Global Insights, Strategic Planning and Innovation:
Hartman Worldview

Growth Strategies



Helping food and beverage clients align their food portfolios to real consumer demand, existing and emerging:
Hartman Strategy
UNSUBSCRIBE | FORWARD EMAIL | ARCHIVES | FEEDBACK | CONNECT WITH US
The Hartman Group respects your right to privacy. We do not rent, sell or exchange email addresses. You are subscribed using the following email address: bob.vosburgh@penton.com. If you wish to change your selections or unsubscribe, click above.

WRITE US: The Hartman Group, Inc, 3150 Richards Road, Ste 200, Bellevue, WA 98005